---
Today was home-Bible-study day. We entertained Vicente and his sister for breakfast, Barbara-Lee held her cooking class and Bible study, and Salvador, Vicente's brother, stopped by. What a privilege to read the Passion Story with them. This past Sunday we finished a 10-week sermon series on reasons for Christ's death. As much as Good Friday is celebrated here in Mexico, few people really know the WHY of Jesus' death or its relevance to them.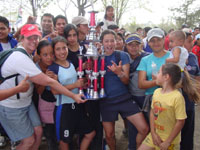 March was a month full of activities. The English Club is going well. One of the students, David, joined us to play in Word of Life's Sports Marathon. He heard the gospel and Tim gave him a New Testament (courtesy of the Gideons). It was a good first step, and as a bonus, our guys' team finished first and the girls finished second. Our Picnic Day on March 12 was well attended. We continue in contact with Vicente and his siblings. They really need stable well-paying jobs with opportunities. Barbara-Lee has really had good input into Ana's life. We also really enjoyed our three visitors: Alycia, Taylor, and Kevin. It was a thrill to host them, expose them to a variety of ministries, show them Mexico, and challenge them spiritually (hopefully). We're thankful for our time with them. Barbara-Lee went to an English-language ladies retreat last weekend and was encouraged to be able to minister to a roommate who accepted the Lord. Tim has had good times of discipleship and Bible study with Leandro and Jesús. Another development in March was that we learned Barbara-Lee is expecting twins. We are thankful for good health through this point both for the twins and Barbara-Lee--although she has experienced a good deal of discomfort. The due date is in late September. Drew had been praying for a brother AND a sister--not a brother or a sister. So when the doctor showed us two babies, it was definitely a "this is God" moment. We don't know if they are boy and girl yet, but in our minds it's a done deal--Drew's prayers at work!
This coming Sunday we are having a 7 AM sunrise service. We are anticipating good attendance and the opportunity to celebrate that Jesus is alive. Next week (after a brief vacation) Tim will be leading a group of teens on an overnight camping trip. We trust it will be fun as well as a good time to expose them to the Bible.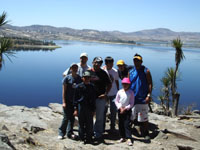 PRAISE
1. Sharing the story of the passion in studies today.
2. The Word of Life marathon and David's attendance.
3. Twins!

PRAYER
1. Stable jobs for Vicente and his siblings.
2. A healthy witness during Semana Santa.
3. Health for Barbara-Lee and the babies.

He is risen!
Tim, Barbara-Lee, and Drew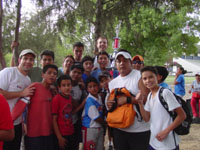 mexico@theglessners.org
http://www.theglessners.org

Mailing address:
APDO 1072
Puebla, Pue. MEXICO
C.P. 72000

Phone: 011 (522) 222-48-50-07