---
Well, Christmas and New Years have come and gone.  At a Bible study this past Friday someone joked that the year's almost over already!  Only eleven months left! January has felt like extended holiday season as we've enjoyed having family here for a couple of visits.  We've also started up again with regular activities and Bible studies, subtracting a few things and adding some new ones to our schedule.  This is a good time to re-evaluate what we're doing and look for better ways to use our time and energy.  If that sounds like New Year's Resolution Time, well, it's not exactly, but maybe fits with the spirit.  By the way, how are you doing at your resolution, if you were so, er, optimistic as to make one?!

January is the coldest time of the year, with nightly lows dipping to the low 40's.  It's a good thing it hits 70 (in the sun) during the day! We told Barbara-Lee's parents it would be too cold for them to come for a visit, but they seemed to think the weather beat NE Pennsylvania in January!  It's also a quieter time, as people have spent all their year-end bonuses and don't have money for the weekend parties that 'entertain' us.  We have had some new ministry opportunities.  Do you remember Vicente from our early December prayer letter?  His father has cancer that has spread through his organs.  We spent quite a bit of time with him in the hospital, and now they have sent him home.  So we are visiting him lots and reading the Bible and praying.  At the same time, Vicente and his sister seem to be more and more involved with the Jehovah's Witnesses.  Please pray for us to love them consistently, to speak truth, and for God to work in their hearts and minds.  We are also involved in a Friday night extended-family Bible study, teaching the teens.  We're currently devoting our time to answering spiritual questions from the teens (our latest: reincarnation).  Reason #417 Why We Need Prayer: one of the teens is highly committed to a Catholic youth organization (kind of like the Boy Scouts).  Despite his involvement there, we discovered he knows nothing about the Bible as well as getting a glimpse of the doctrine (works) he is being taught.  What an opportunity to share God's Word with him!  Also, we have met with a family several times to help them with "teenage problems".  Good news: The other day, Tim was able to share the gospel with their son, Jesús, and he responded.  Qualifying news: this was the second time he did this.  So there's a need for patience, and growth, and the Bible.  But praise the Lord for this opportunity.
Ahead, we hope to bring out many friends and neighbors to a friendship dinner on February 11.  This Tuesday we begin an English Conversation Club at a local university.  Barbara-Lee is planning this to be a conversation time with advanced English students and native English speakers in our church as well as other acquaintances.  We anticipate anywhere from 20-30 students.  As this develops, we think this will be a good tool to contact students, as well as something YOU might participate in should you ever come down on a missions trip!
PRAISE
1. Tim's time with Jesús.
2. For the New Year with new opportunities.
3. Good times with family.

PRAYER
1. Vicente (his relationship with the Lord, and not the JW's), his dad (assurance of salvation, healing) and the rest of his family.
2. English Conversation Club beginning Jan 31st. Pray for a good start this Tuesday.
3. Friendship dinner, Feb. 11th. Pray for many visitors.

May God bless you and keep you! Jude 24-25
Tim, Barbara-Lee, and Drew

Drew's Vocab Quiz
Last Words:1. excavadora=back hoe.
New Words:1. Quiero ir a la escuela 2. ¿Por qué? 3. No tengo unos...
This picture really doesn't have anything to do with our ministry, but it bears showing anyway...!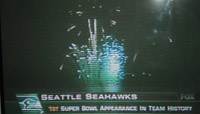 mexico@theglessners.org
http://www.theglessners.org

Mailing address:
APDO 1072
Puebla, Pue. MEXICO
C.P. 72000

Phone: 011 (522) 222-48-50-07